On the instructions of DC Quetta and AC City, Special Magistrate Ahsamuddin visited several building works in the city area.
Work has been stopped and notices have been issued to produce paperwork.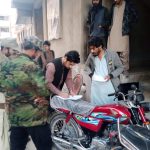 Under the direction of Deputy Commissioner Quetta and under the supervision of Assistant Commissioner Quetta City, Special Magistrate Quetta City Abdul Hameed started anti-encroachment on the common road and cleared the footpath.